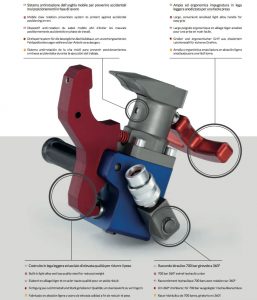 Thanks to their compact size and light weight, hydraulic bead breakers are the ideal tool for operation directly on the vehicle's worksite, whether it be a quarry, a construction site, a mine, etc.
Easy to handle and convenient by reason of their compactness, these bead breakers are ideal for demounting the tyres of SUVs, trucks, tractors and construction machinery up to 51" in size.
Connected by means of a high-pressure hydraulic hose (supplied as standard with the pump), they can be operated either by means of a hand pump – requiring no external power source, making it usable anywhere, with no need to go to specific maintenance areas -, or using an air-hydraulic pump powered by compressed air, which allows the bead breaker to be operated more quickly.
Built throughout in high-quality special alloys which guarantee outstanding reliability, all these products comply with the relevant European regulations